Studies in Media and Communication
(ISSN: 2325-8071; E-ISSN: 2325-808X) is an international, peer-reviewed, open-access journal, published by Redfame Publishing. The journal is published
semiannually
in both
print and online versions
. The journal accepts article submissions
online
or by
e-mail
.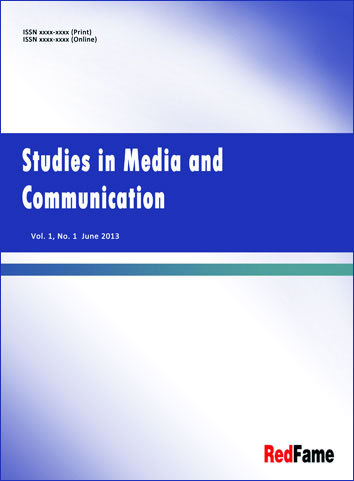 SMC aims to promote excellence through dissemination of high-quality research findings, specialist knowledge, and discussion of professional issues that reflect the diversity of this field.
The focuses and scopes of the journal include:
Applied Communication
Communication Education
Communication Theory
Digital Communication
Electronic Media
Environmental Communication
Health Communication
International and Intercultural Communication
Interpersonal Communication
Language and Social Interaction
Legal Communication
Mass Communication and Media Literacy
Mass Media
Organizational Communication
Political Communication
Public Relations
Semiotics
Small Group Communication
Speech Communication
Theatre and Drama
Visual Communication
The journal is included in:
Beardslee Library
Crossref
LOCKSS
Open Access Library (OALib)
OpenEdition
RePEc
Scilit
Worldcat
Provides DOIs at the article level:
Each paper published in Studies in Media and Communication is assigned a DOI® number, which appears beneath the author's affiliation in the published paper. Click HERE to know what is DOI (Digital Object Identifier)? Click HERE to retrieve Digital Object Identifiers (DOIs) for journal articles, books, and chapters.
---
Publication Policies
Deposit Policy / Archiving Policy

»
Submission Preparation
As part of the submission process, authors are required to check off their submission's compliance with all of the following items, and submissions may be returned to authors that do not adhere to these guidelines.
- Please read the Author Guide before you submit a manuscript.
- The submission has not been previously published, nor is it before another journal for consideration (or an explanation has been provided in Comments to the Editor).
- The submission file is in Microsoft Word file format.
- The text adheres to the stylistic and bibliographic requirements outlined in the Author Guide.
- Add DOIs and persistent links to those references that have DOIs, please see the Author Guide.
- If the paper is accepted for publication, you will be asked to pay an Article Processing Charge: 500USD/article.
- Copyrights for articles published in this journal are retained by the authors, with first publication rights granted to the journal. The journal/publisher is not responsible for subsequent uses of the work. It is the author's responsibility to bring an infringement action if so desired by the author.
NOTE:
The publisher and journal have a policy of "Zero Tolerance on the Plagiarism". We check the plagiarism issue through two methods: reviewer check and plagiarism prevention tool (ithenticate.com).
All submissions will be checked by iThenticate before being sent to reviewers.
Start a New Submission
Option 1:

 Click Here to submit a manuscript online. 

Option 2:

 Send your manuscript and supplements (if applicable) to E-mail: smc@redfame.com
Announcements
Studies in Media and Communication Indexed in Scopus

We are pleased to announce that Studies in Media and Communication (ISSN 2325-8071 E-ISSN 2325-808X) has been indexed in Scopus since 2021. Scopus is the world's largest abstract and citation database of peer-reviewed literature, and is published by Elsevier B.V..

The Studies in Media and Communication editorial board congratulates everyone involved with the journal for their consistently hard work and attention. Thanks to all of you, the journal now enjoys a rising level of prestige in the publishing world.

Posted: 2022-06-15
More...

SMC, Vol. 10, No. 2, December 2022: Call for Papers

Studies in Media and Communication is calling for submissions to the Vol. 10, No. 2, December 2022 issue (Deadline: November 5, 2022). If you are interested in submitting a manuscript to this journal, please review the About the Journal page for the journal's section policies, as well as the Author Guidelines to see how to submit a manuscript to Redfame journals. For questions, please contact smc@redfame.com.
Posted: 2022-05-13
More...

SMC Statistics Report 2021

Articles Received: 46  
Articles Accepted: 17 
Articles Rejected: 29
Articles Retracted: 0    
Articles Published: 15   
Acceptance Rate: 36.96%
Posted: 2022-01-25
More...

Reviewer Recruitment

Requirements

1. Possess a doctoral degree in a discipline related closely to the journal 
2. Hold a teaching or research position at a university or academic institution 
3. Be fluent in academic and professional English 
4. Have a strong interest in the scholarly journal 
5. Work quickly and accurately under tight deadlines
6. Reviewers are required to follow the Committee on Publication Ethics (COPE)'s COPE Ethical Guidelines for Peer Reviewers.

Posted: 2022-06-20
More...

Policy Change of Free Print Journals

As you are aware, printing and delivery of journals results in causing a significant amount of detrimental impact to the environment. Being a responsible publisher and being considerate for the environment, we have decided to change the policy of offering free print journals for authors.

From May 1, 2018, we will not automatically provide authors free print journals. However, when authors really need free print copies, they are requested to kindly complete an application form to order printed copies. Once approved, we will arrange print and delivery, for a maximum of two copies per article. If authors require more than two copies, they are requested to order online at: http://home.redfame.com/subscription-information/

We are committed to saving the planet for our future generations.

Posted: 2018-01-27
More...
Vol 10, No 2 (2022): [In Progress]
Studies in Media and Communication, Vol. 10, No. 2, December 2022
Table of Contents
Articles
| | | |
| --- | --- | --- |
| | Ese Steven Umukoro, Joyce Ogho Ogwezi | 1-12 |
| | | |
| --- | --- | --- |
| | Yawei Chen, Abdul Muati Zamri Ahamd, Mastura Mahamed, Diyana Kasimon | 13-24 |
| | | |
| --- | --- | --- |
| | Edeinmene Arede, Majority Oji | 25-38 |
| | | |
| --- | --- | --- |
| | Joshua Aghogho Erubami, Philo Igue Okpeki, Edith Ugochi Ohaja, Uchenna Chijindu Anorue, Martins Ndubisi Ezugwu | 39-52 |
| | | |
| --- | --- | --- |
| | Nico Irawan, Pratiwi Retnaningdyah, Ali Mustofa | 53-64 |
| | | |
| --- | --- | --- |
| | Ľuboš Greguš, Anna Kačincová Predmerská, Jana Radošinská | 65-80 |
| | | |
| --- | --- | --- |
| | Yixuan Wu, Yumin Zou | 81-90 |
| | | |
| --- | --- | --- |
| | Mohammad Awad AlAfnan, Tamara Oshchepkova | 91-98 |
| | | |
| --- | --- | --- |
| | Senguttuvan M, Prajeesh Tomy, Anu Baisel, Vijayakumar M | 99-104 |
| | | |
| --- | --- | --- |
| | Herman Lawelai, Anwar Sadat, Ansar Suherman, Agustiyara Agustiyara, Achmad Nurmandi | 105-114 |
| | | |
| --- | --- | --- |
| | Muryanto Amin, Humaizi Humaizi, Suci Rahmadani, Muhammad Yusuf | 122-128 |
| | | |
| --- | --- | --- |
| | Bambang Sukma Wijaya | 129-144 |
| | | |
| --- | --- | --- |
| | Herman Herman, Sulistyani Sulistyani, Magdalena Ngongo, Endang Fatmawati, Nanda Saputra | 145-154 |
| | | |
| --- | --- | --- |
| | Roland Rencewigg P, Nancy Prasanna Joseph, A Clement, K Anbazhagan | 155-165 |
| | | |
| --- | --- | --- |
| | François Wakata Bolvine | 174-184 |